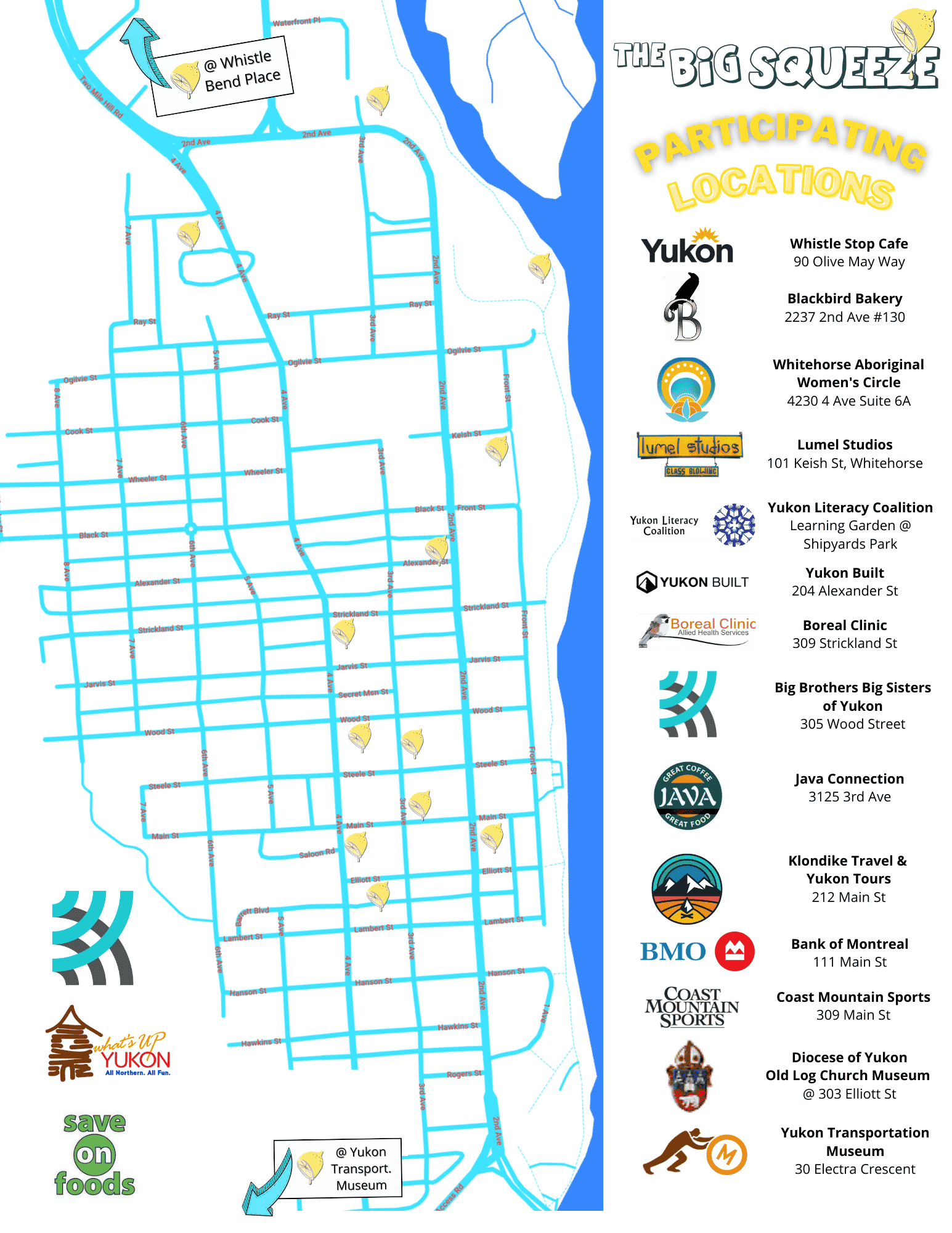 Ah summer, the time of year that conjures up thoughts of long, sunny days, and a steady stampede of tourists and motorists eagerly embarking from Whitehorse onto trails less traveled. More recently, summer in Whitehorse has brought another sight – lemonade stands popping up in front of stores and on street corners. It's The Big Squeeze, our popular city-wide lemonade stand fundraiser in support of Big Brothers Big Sisters of Yukon!
Each year, roughly a dozen businesses around town compete to raise funds for Yukon's youth mentoring charity, putting their fun twists on the classic lemonade stand in hopes of being dubbed The Biggest Squeeze by a panel of expert taste-testers. "We've seen a lot of variety since this began a few years back" says Big Brothers Big Sisters board rep Becky Johnson, adding "some of the businesses supporting us like to go all out with zany extras and gourmet recipes." Gourmet, you say? Just ask last year's winningest team from the Boreal Clinic, who won over the Big Brothers Big Sisters judges with their Spruce-tip infused thirst quencher. "We used an old family recipe that we loved, and it turns out our community does too!" explains Evie Allen, owner of Boreal Clinic.
Originally envisioned in 2013 as a fun summer fundraiser for the Prince George chapter of Big Brothers Big Sisters, The Big Squeeze has grown to become a beloved summer event in over 15 cities nationwide, from Victoria to Guelph. Big Brothers Big Sisters of Yukon began their own twist on the tradition in 2018, and the fun summer event grown in popularity since. Although the event had to be canceled in 2020, last year's return of The Big Squeeze was a tasty reminder that support for our community (and appreciation of a great glass of lemonade) is alive and well.
Area businesses each compete by offering their lemonade in exchange for a donation, and some choose to also include additional draws such as baked goods, live music, or a bbq. All proceeds from The Big Squeeze stay right here in The Yukon to support Big Brothers Big Sisters of Yukon's proactive mentoring programs. And that, according to many fans of the event, is precisely why each glass of lemonade tastes seems to taste just a bit sweeter.
"Along with raising awareness for our programming, we see The Big Squeeze as a fun community-building event that attracts both locals and tourists" explains Ben Johnston-Urey, Executive Director for BBBSY.  "And a big part of that fun is the participation of local luminaries, who serve as our 'celebrity' taste-testers for the competition. This year's team includes The Rush's Bobby Ferris, Commissioner Angelique Bernard, and a few surprise guests" says Ben. "They'll be carefully weighing each stand's offering, ranking them according to taste, creativity, stand presentation, and mouthfeel."
Both the best-tasting and highest fundraising teams from this year will win bragging rights as 'The Biggest Squeeze'- walking away with custom trophies hand-crafted by Lumel Studios and Big Brothers Big Sisters volunteers. "The entire event really keeps our judges on their toes- you may have one stand offering a new spin on the classic lemonade, and another which offers up an entirely unexpected beverage experience," Ben continues. "Stands run the gamut of taste profile, flavor combination, and use of ingredients."
Craig van Lankveld, BBBSY board member and long-time taste-tester, agrees. "It's a tough job having to sample all the delicious lemonade and baked goods each year.  After six or seven stands, you definitely get a bit jittery from all the sugar."  For any first-time judges, he offers a few tips: "Take small sips, and keep your head in the game by reminding yourself that it's all for the kids."
Stands operate from 11am to 2pm on July 20th, and you can find a map of participating locations on the Big Brothers Big Sisters of Yukon Facebook page, or visit www.yukon.bigbrothersbigsisters.ca.  From there, you can also learn more about the agency's program offerings, geared for children and youth ages 6-16, as well as how to donate directly or get involved. This year's event is just around the corner, so be sure to get out and raise a glass or three in support of our community's youth!