Get ready to leave no pin standing, as Big Brothers Big Sisters of Yukon announces their 31st annual Bowl for Kids' Sake
charity tournament and fundraiser! This family-friendly, fun-filled event has become a yearly tradition among Yukoners,
who will gather this year at the storied Northern Lights Bowling Alley in Whitehorse, on Sunday, April 24th.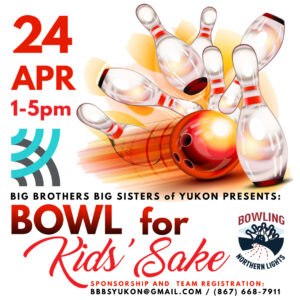 Whether you're a gutterball guru or a seasoned lane ninja, this event is sure to bring the fun – door prizes, silent auction, pizza, and a few special surprises await all teams who sign up for this yearly event.
It's true- bowling hosts a number of benefits, including giving a boost to your physical and emotional health. But our Bowl for Kids' Sake  is all about the kids…the life-changing programs we offer that give so much back to our community are made possible, in large part, by businesses and members of the public who participate in our events and support us.
And there are many ways to get involved, whether it's getting a team of 4-6 bowlers together (all ages encouraged!), or donating as sponsors. This Spring, join us for Bowl for Kids' Sake – great fun, great food, and as always a great cause. And remember, it's not how you bowl…it's how you roll!
Sign up today, email us at bbbsyukon@gmail.com or call (867) 668-7911.