Big Brothers Big Sisters of Yukon Bowl for Kids Sake – Important Notice
It will likely come as no surprise that Big Brothers Big Sisters is not able to hold our annual BFKS fundraiser this year.
This Covid-19 Pandemic is compelling us to adjust our practices in many areas of our lives. Social distancing will hopefully lower the curve for the virus, but we also recognize that it raises the curve for some of the social problems that result from unmet social and emotional needs.
Big Brothers and Big Sisters role is to step in and give support where it is needed with our community's children. In the past we have held the BFKS event to enable our staff to be supported as they manage programs to support Littles. This year that event can't happen as scheduled, even though the needs of our children are not interrupted.
Our agency is seeing this difficult time as an opportunity to put relationships in the forefront of our minds and hearts. Even though our Board, staff, volunteers and families are not able to spend time in close quarters with one another, we know that relationships will get us all through this. We are asking those of you who can to keep in mind these children's needs and help this organization continue to provide services. If all goes well, we hope to be able to run this event in the early fall. We'll keep you posted.
Signed,
The Big Brothers Big Sisters of Yukon Board Members and Staff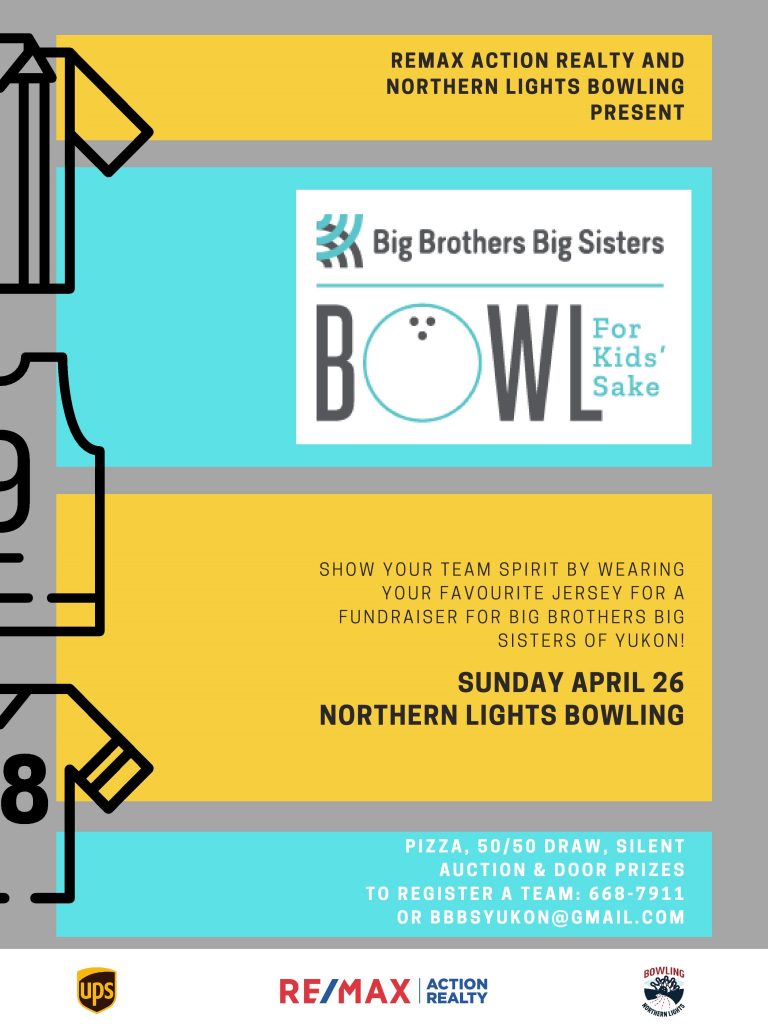 Come play with us at our annual Bowl for Kids Sake fundraiser!  Gather a team of 4-6 bowlers (any age) and enjoy food, prizes and fun at our largest fundraiser! To register a team contact bbbsyukon@gmail.com or 668-7911.
Thank you to our Event Sponsors: